(Updated with new content and adjusted links for Earth Day 2022)
As I write this, today, April 22,  is the 52nd Earth Day.
Mount Sinai's "6 Kinds of Best" goals include encouraging our kids to be the "Kind to the Environment" – a goal of students and staff alike to improve the environment where they can.
I spent some time collating a few activities where students can use technology to learn about our natural environment, or ways they can contribute to global sustainability.
---
NASA Globe Project
The NASA "Globe" project has millions of observers around the world, including many schools, sharing what they see in their own playgrounds. These contributions are analysed to help scientists understand how the natural world is changing.
Contribute some information about your local environment – it might be as simple as photos or measurements of the trees outside, or the weather – to help with the global observations of the change of the world through the NASA "GLOBE Observer". They are also guided how to use mathematics to measure the height of a tree based on their own height and some other measurements they can do from the ground.
The kids can see their observations being added to all of those taken today or over time.

Google Earth Time Lapse:
Google Earth's amazing "Time Lapse" feature helps children understand the changes of our planet over time and its natural beauty . There are now satellite views of the landscape from 1984 until today and Google has created Guided Tours of parts of the world. Some of the changes are man-made and great for helping students understand urban vs rural.


As an example – the expansion of the cities in Dubai, or the Urban Growth is such a great representative of the change over the past 30-40 years, and can lead to great discussions about increasing population, habitat destruction and human impacts on the earth.
https://earthengine.google.com/timelapse/
Micro:bit "Do your bit"
If you're lucky enough to have some Micro:bits – there are terrific coding activities as a part of the "Do Your Bit" website – sharing activities that are linked to the UN Sustainability Goals. These activities on the "Do Your Bit" look at ways that kids can learn to code prototypes of systems that scientists use like Animal trackers.
If you don't have micro:bits or enough to go to every child- the activities can be done online in the Makecode software and tested out in the Simulator which is like a fully-functioning Micro:bit – including its' sensors.
These could be used as starters for larger projects with Design Thinking activities – encourage kids to think of ways that simple coded robots could monitor Climate Change, clean up waste or help people think about what they are throwing out.
---
This year we're going to follow up a combination of projects – we've recently bought a Micro:bit Weather:bit and Spark:fun Weather station, and are going to use this to build a weather station at the College. A combination of the Weather station and the "radio" capabilities of Micro:bit are so great – to share the results we receive outside to an internal device.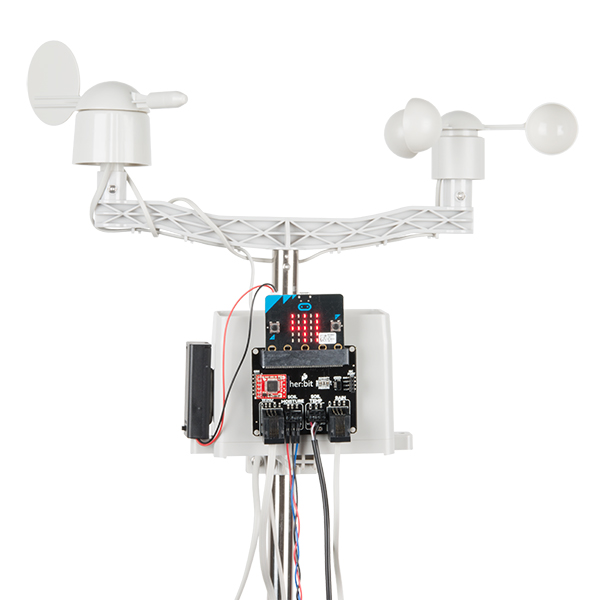 Minecraft Sustainability City
Minecraft has some great activities on Sustainability in their "Sustainability City" World. The Sustainability City lessons explore a wide range of issues, including the components of a sustainable home, managing waste products, clean electricity generation, responsible forestry, and more.